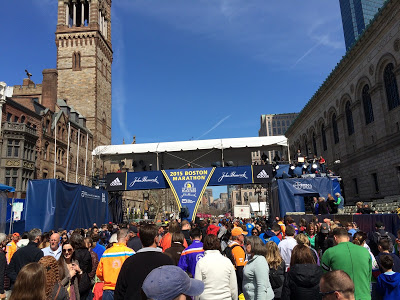 Boston Marathon Finish Line – Photo Credit Justin Ferguson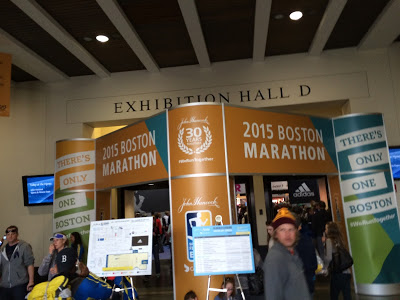 Boston Marathon Expo – Photo Credit Justin Ferguson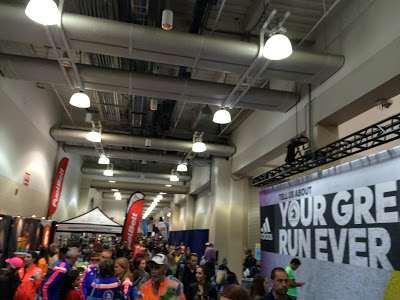 Inside the Boston Marathon Expo – Photo Credit Justin Ferguson
Whenever I prepare for a long run (including a race), I am very regimented and focused on completing my tasks. I had learned the previous year in Boston what could be the outcome by not maintaining strict focus, and despite the overwhelming energy in the city, was committed to not following that same path this time around.
Next on the schedule was departing for a short 3km run. I always find these helpful, they get the blood flowing and allow me to become acclimatized to the community, they also take my mind off the race that is to follow the next day. I never depart trying to set any records on this day but maintain the mindset to take it slow and allow my muscles to get used to the idea of running. It was a brisk morning in Boston and there were a few other runners out doing similar things. The run was uneventful and I returned to the hotel feeling ready. When I returned, the lobby was scattered with other runners and their families, which automatically gave me an energy boost.
Before I departed the expo, I did permit myself some time to explore it quickly, which included signing the runner's wall, picking up a few gifts for family and friends, and grabbing a souvenir for myself. I was able to get each of these items from the Official Store. Getting myself an official hoodie, which marked the second year in a row that I did this and has likely now become a tradition… Again, despite the crowds, the speed at which I was processed was commendable and speaks to the organization of the event and the capabilities that new technology offers. With these tasks done, I expeditiously explored the rest of the expo and departed onto Boylston Street.